Azuca Presents on Whole-Plant Edibles at the Emerald Conference | Upcoming Industry Events | Partner Updates | Legislative News
2023 is already off to the races! From presenting new advanced formulations in whole plant edibles, to planning our trade show schedule and seeing Azuca TiME INFUSION® partners pop up around the country, it's an exciting time to be a part of the evolving edibles marketplace. Follow along as we share details for where to find us this spring, legalization updates across the country, and more.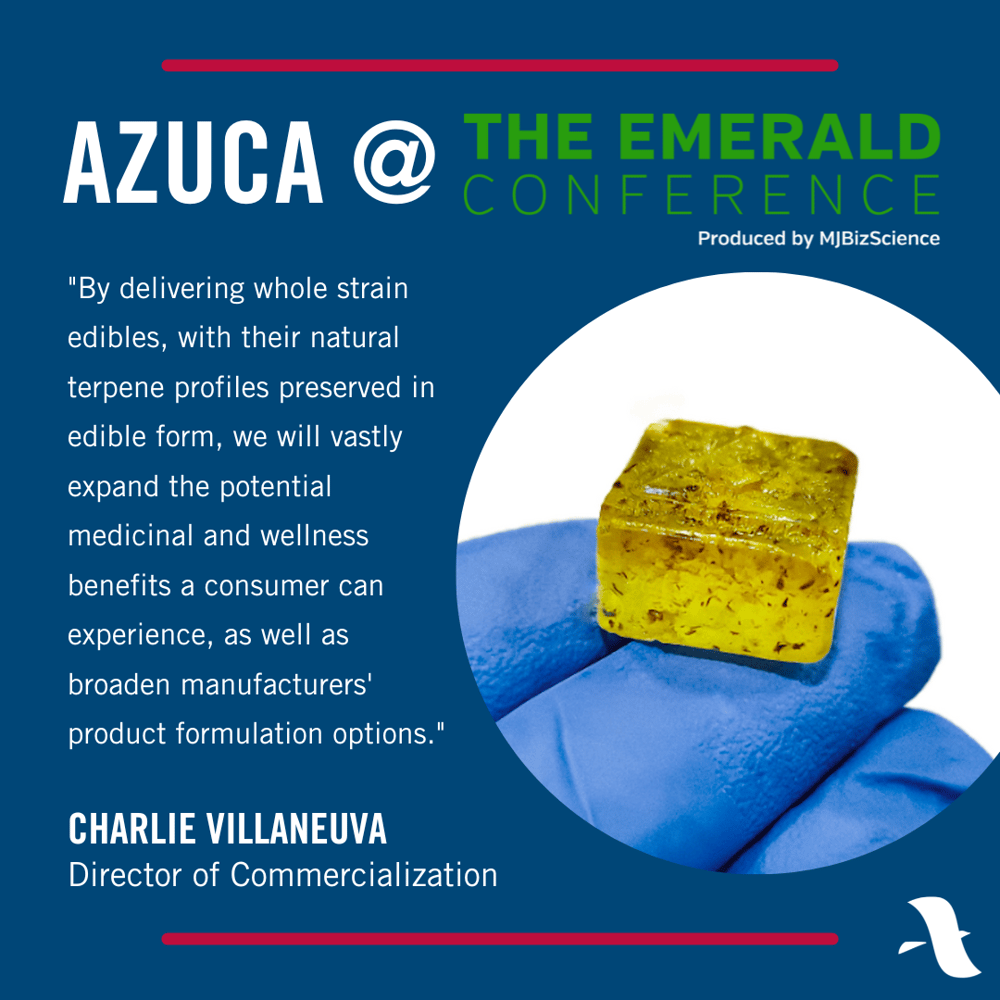 The ingestible category is evolving quickly, and Azuca is leading the charge with innovation on Whole-Plant edibles. Charlie Villaneuva, Director of Commercialization, will showcase Azuca's advancements during a poster presentation titled "Whole-Plant Edibles: Harnessing The Full Power of Cannabis" at The Emerald Conference, produced by MJBizScience, taking place March 1-3 in San Diego.
Register here to meet with Charlie and learn more about science within the industry, or book a meeting during the show to meet on-site with our Co-founder and CEO Kim Sanchez Rael.
READ THE FULL PRESS RELEASE HERE
---
Connect with us at Industry Events this Spring!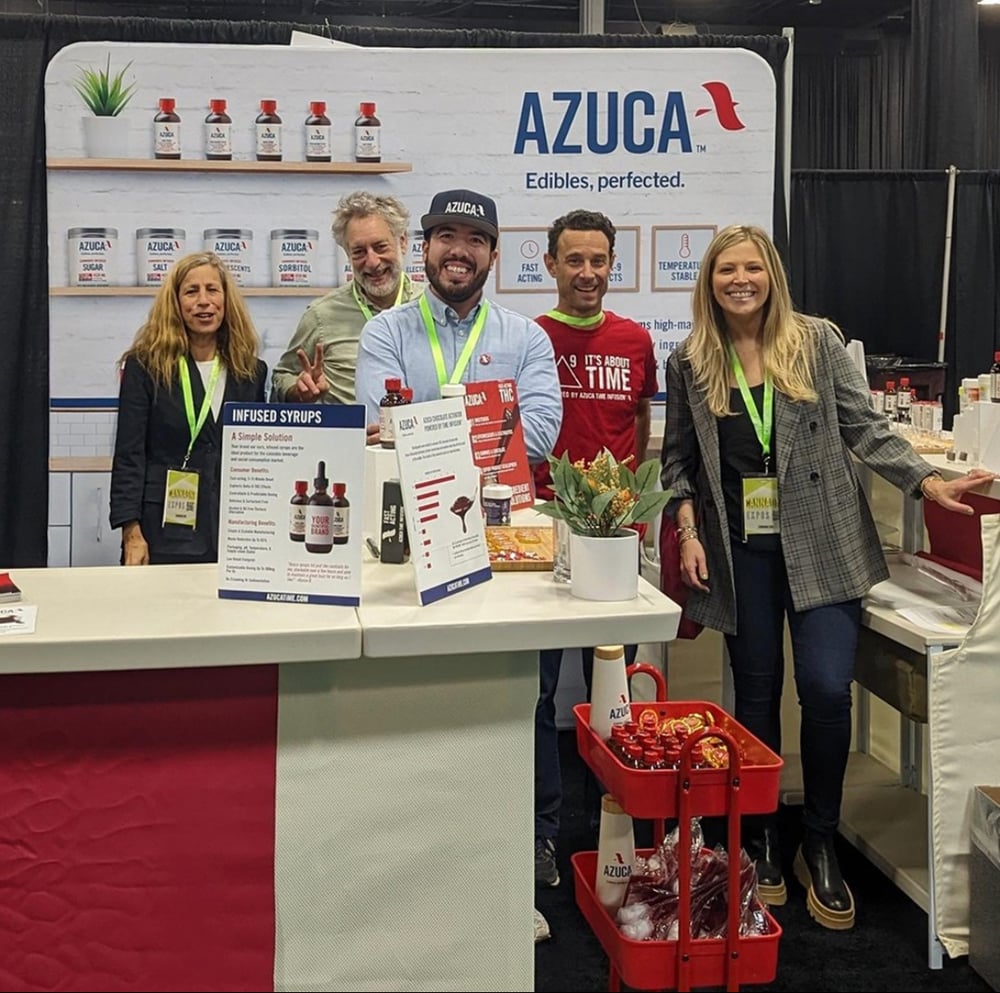 You can also find Azuca at the following events this spring:
We're looking forward to connecting with Azuca friends, old and new, and sharing the latest innovations in ingestibles. Let us know if you'd like to set up a meeting, and follow us on social for more event updates and details!
---
Partner Updates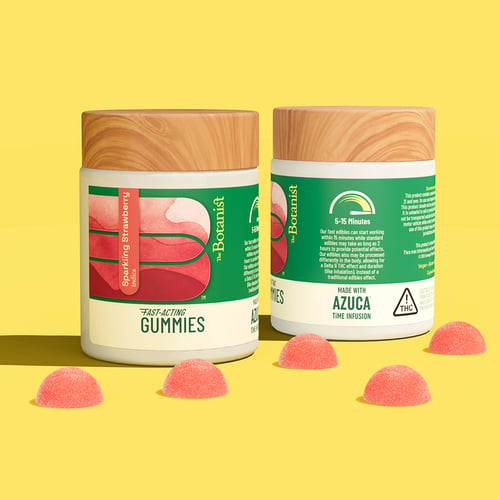 Acreage Introduces Fast-Acting Gummies
Acreage Holdings has introduced new "Fast-Acting Gummies" under its flagship brand, The Botanist. Made with care by the talented Acreage Team and powered by AZUCA TiME INFUSION® for fast-acting and euphoric effects, these sweet treats contain either 5 or 10 mg of THC per dose and come in packs of 10 or 20. Available in Sparkling Orange and Sparkling Strawberry flavors. Read more from Benzinga's exclusive announcement. We're thrilled about this exciting new partnership!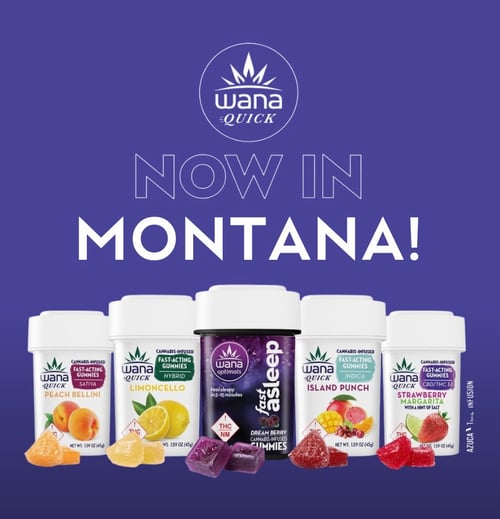 Wana Quick Continues to Sweep the Nation
Wana Quick has officially landed in Montana this month, and we're thrilled for Montanans to enjoy these sweet, fast-acting treats under those big, beautiful skies. Plus, Wana's Fast Asleep has landed in Arkansas with a formulation to make you feel sleepy in just 5-15 minutes. To learn the latest about Wana and find products near you, visit their website.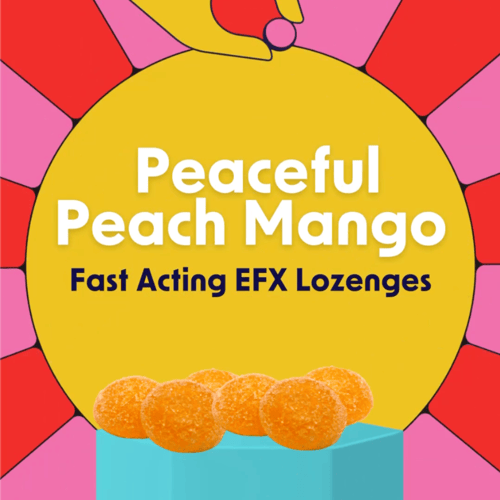 Hedy in New Jersey
Our friends in New Jersey can now enjoy Hedy's Peaceful Peach Mango Fast-Acting EFX Lozenges. These fruity edibles are designed specifically to help you kick back, tune out, and unwind. Find them now at a location near you.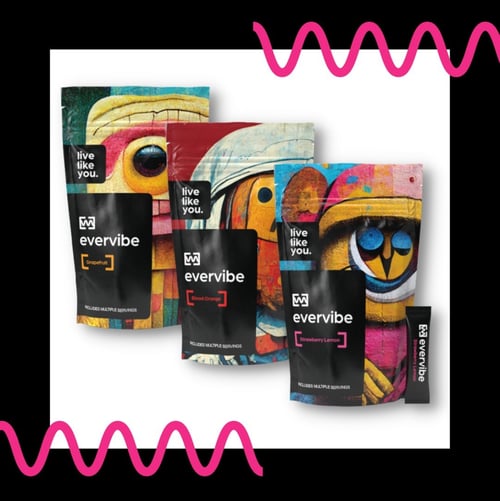 Hedy in New Jersey
Get ready to shake things up with Evervibe, an infused drink powder launching soon in Massachusetts. Made with high-quality ingredients and packed full of flavor, this THC-infused drink mix is designed to elevate your everyday moments. Sign up to be the first to know when Evervibe is available at a dispensary near you!
---
Legalization Updates
Oklahoma – Early next month, Oklahoma voters will decide if medical cannabis legalization in the state should be expanded to recreational use for adults 21 and older. While intense campaigns on either side of the issue are attempting to swing the vote, industry research shows a possible $821 million in additional revenue for the state over five years if the vote is passed.
New York – On February 10, New York Governor Kathy Hochul announced the opening of a third retail dispensary location in Manhattan. The shop, cheekily named "Union Square Travel Agency: A Cannabis Store," advances New York State's Seeding Opportunity Initiative which positions individuals with prior cannabis-related criminal offenses to make the first adult-use cannabis sales with products grown by New York farmers.
Kansas –  A bill proposed in Kansas would allow individuals to have cannabis-related crimes expunged from their records and release anyone serving probation, parole, prison or jail sentences. As Kansas is one of four states where cannabis remains outlawed for any purpose, this would serve as a backdoor way to relieve people of their penalty.